邮件营销教程:Melissa Griffin – Email List Academy

这是一个质量不错的邮件营销课程,作者是 Melissa Griffin,之前分享过她的课程: Blog to Biz Hive (将博客变成百万美元生意的秘密),有些内容还是值得学习的。
下面是课程文件清单:
01-Getting Started

01-Welcome to Email List Academy!.pdf

02-Required- Discover Your List-Building Personality Type.pdf

03-Join Our Student Facebook Community.pdf

02-Week 0 - Laying the List-Building Groundwork

01-Making the Most Out of the Course Click here to sign up for Asana. - Melyssa Griffin.mp4

01.1-Making the Most Out of the Course Click here to sign up for Asana. - Melyssa Griffin.mp4

02- Why Your Email List is Essential.mp4

03-Small, But Mighty Lists - Why Size Matters Less Than You Think - Melyssa Griffin.mp4

04-Common Fears that Hold You Back From Email Marketing and How to Get Past Them Join our Email List Academy Facebook Group now! - Melyssa Griffin.mp4

05-ELA_Bonus-ListBuildingLingo.pdf

03-WEEK 1- The Who, What, and Why of Rapid List-Building

01-An Overview of the 5 List-Building Personality Types Haven't taken the quiz yet- Click here to take it now! - Melyssa Griffin.mp4

02-ELA_Bonus-IdealAudience.pdf

02-How to Figure Out Who the Heck Your Ideal Subscriber (or Ideal Customer Avatar) Is Download the -Attract Your Audience- Workbook Below- - Melyssa Griffin.mp4

03-ELA_DeepestPurpose-JournalPrompts.pdf

03-List-Building With a Purpose Download the Journal Prompts Below- - Melyssa Griffin.mp4

04-ELA_ProfitableProducts.pdf

04-How to Build a Profitable List -- Work Backwards! Download the handout below to check out the recommended products for your List-Building Personality Type- - Melyssa Griffin.mp4

05-The Email Service Providers I Recommend + Why Recommended Email Service Providers-Want to chat with other students about their preferred ESP- Join our Facebook Community and create a post! - Melyssa Griffin.mp4

04-WEEK 2- Create Your Primary Lead Magnet

01-What is a Primary Lead Magnet- - Melyssa Griffin.mp4

02-Creating Your First Lead Magnet - Melyssa Griffin.mp4

03-Which Lead Magnet Should You Create Based on Your List-Building Personality Type- - Melyssa Griffin.mp4

03.1-Which Lead Magnet Should You Create Based on Your List-Building Personality Type- - Melyssa Griffin.mp4

03.2-Which Lead Magnet Should You Create Based on Your List-Building Personality Type- - Melyssa Griffin.mp4

03.3-Which Lead Magnet Should You Create Based on Your List-Building Personality Type- - Melyssa Griffin.mp4

03.4-Which Lead Magnet Should You Create Based on Your List-Building Personality Type- - Melyssa Griffin.mp4

04-How to Use a Resource Library as Your Lead Magnet - Melyssa Griffin.mp4

05-Tech Tutorial- How to Set Up a Resource Library Click here to purchase the Essential Grid plugin now - Melyssa Griffin.mp4

06-How to Use a Quiz as Your Lead Magnet Quiz Software- - Melyssa Griffin.mp4

07-Tech Tutorial- How to Set Up a Quiz Using Interact For this video, I brought in my tech wizard, Jamie, who set up list-building quiz inside of Interact and has been using this software for years. Since she knows the so.mp4

05-WEEK 3- The Secrets of High-Converting Opt-In Forms + Landing Pages

01-How to Write Copy that Converts for Your Landing Page - Melyssa Griffin.mp4

02-Tech Tutorial- How to Design a Landing Page With LeadPages Click here to sign up for LeadPages. - Melyssa Griffin.mp4

03-Tech Tutorial- How to Design a Landing Page With ConvertKit For this video, I brought in Alexis, who works at ConvertKit and knows the software in and out! Check out her tutorial below-Click here to sign up for Convert.mp4

04-How to Use Your List-Building Personality Type to Boost Your Landing Page - Melyssa Griffin.mp4

05-The Secrets of Great Opt-In Forms Click here to sign up for ConvertKit.Click here to sign up for LeadPages. - Melyssa Griffin.mp4

06-Tech Tutorial- How to Create an Opt-In Form With ConvertKit Click here to sign up for ConvertKit - Melyssa Griffin.mp4

07-Bonus- Design Killer Landing Pages using LeadPages - Special Training Created by my Personal Designer - Melyssa Griffin.mp4

06-WEEK 4- Hit Publish on an Engaging Nurture Sequence

01-The Basics of Tags, Sequences, and Automation - Melyssa Griffin.mp4

02-Tech Tutorial- Getting Started With ConvertKit For this video, I brought in my personal tech wizard, Lucia, who knows ConvertKit like the back of her hand. Check out her tutorial below-Click here to sign up for Convert.mp4

03-ELA-Swipe-WelcomeSequence.pdf

03-How to Write a Captivating Nurture Sequence That Builds Engagement - Melyssa Griffin.mp4

04-Tech Tutorial- Creating an Automated Email Sequence in ConvertKit Click here to sign up for ConvertKit - Melyssa Griffin.mp4

05-Tech Tutorial- Creating an Automated Email Sequence in Mailchimp For this video, I brought in my personal tech wizard, Jamie, who knows Mailchimp like the back of her hand. Check out her tutorial below-Click here to si.mp4

07-WEEK 5- Preparations Before Major Growth

01-Share Your Landing Page with Your Biggest Fans - Melyssa Griffin.mp4

02-How to Optimize Your Site for List Growth - Melyssa Griffin.mp4

08-WEEK 6- How to Create Engaging Weekly Emails

01-How to Write Powerful Weekly Emails - Melyssa Griffin.mp4

02-Create Memorable Emails for Your LBPT.pdf

03-The Essentials of Click-Worthy Subject Lines - Melyssa Griffin.mp4

04-The Top 5 Emails Your Audience Needs From You - Bonus Workshop with Angel from ConvertKit - Melyssa Griffin.mp4

09-WEEK 7- Your Free Content Formula

01-How To Publish Weekly Content That Grows Your Email List - Melyssa Griffin.mp4

02-How to Create an Editorial Calendar Game Plan - Melyssa Griffin.mp4

03-Batching- Your Secret Weapon for Content Creation - Melyssa Griffin.mp4

10-WEEK 8- Distribute Your Message For Rapid List Growth Acceleration

01-How to Promote Your Content to Your Audience - Melyssa Griffin.mp4

02-How to Get Your Content In Front of New Audiences - Melyssa Griffin.mp4

02-How to Get Your Content In Front of New Audiences.pdf

03-Content Distribution Ideas for Your LBPT.pdf

11-WEEK 9- Massive List Growth Using a u201cList Building Boosteru201d

01-What is a List Building Booster- - Melyssa Griffin.mp4

02-Create a Topic + Title for Your LBB - Melyssa Griffin.mp4

03-Tech Tutorial- Organizing Your LBB in Asana - Melyssa Griffin.mp4

12-WEEK 10- Create Your List Building Boosteru2019s Content

01-How to Create The Content For a Webinar LBB - Melyssa Griffin.mp4

02-How to Create The Content For an Email Challenge LBB - Melyssa Griffin.mp4

03-Tech Tutorial- Setting Up Your Challenge or Webinar - Melyssa Griffin.mp4

13-WEEK 11- Promote Your LBB + Attract New Subscribers

01-ELA-Swipe-LBBSequence.pdf

01-Write + Schedule Emails to Your List to Promote Your List Building Booster - Melyssa Griffin.mp4

02-How to Promote Your LBB to Attract New Subscribers.pdf

14-WEEK 12- Host Your List Building Booster

01-ELA-LBB-TipsForHosting.pdf

02-How to Audit Your LBB for More Subscribers on Autopilot - Melyssa Griffin.mp4

15-BONUS WEEK 13- Turn Your List Building Booster Into an Automatic Sales Machine

01-How to Make Continuous Sales With Your LBB - Melyssa Griffin.mp4

02-How to Continue Adding New Subscribers to Your LBB - Melyssa Griffin.mp4

03-ELA-Swipe-LBBFollowUp-Challenge.pdf

03-ELA-Swipe-LBBFollowUp-Webinar.pdf

04-Tech Tutorial- How to Set Up Deadline Funnel to Create Evergreen Deadlines - Melyssa Griffin.mp4

05-Tech Tutorial- Putting Your Email Challenge on Autopilot - Melyssa Griffin.mp4

06-Tech Tutorial- Putting Your Webinar on Autopilot - Melyssa Griffin.mp4

16-Bonus Training- The Keys To Launching Successfully with Launch Strategist Dee Reller

01-The Keys To Launching Successfully with Launch Strategist Dee Reller - Melyssa Griffin.mp4

17-Bonus Tech Tutorials- Setting Up Your Evergreen Webinar with EasyWebinar

01-How To Create An Evergreen Event - Melyssa Griffin.mp4

02-How to connect EasyWebinar to Your Email Service Provider - Melyssa Griffin.mp4

03-How To Set Up Registration And Thank You Pages - Melyssa Griffin.mp4

04-How To Create A Replay Page - Melyssa Griffin.mp4

05-How To Set The Pre-Webinar Emails - Melyssa Griffin.mp4

06-How To Identify Who Showed Up & Who Didnu2019t - Melyssa Griffin.mp4

18-Share Your Testimonial

01-Got results from ELA Click here to share them with.pdf

19-Transcripts

01-ELA_Transcript-Week0.pdf

02-ELA_Transcript-Week1.pdf

03-ELA_Transcript-Week2.pdf

04-ELA_Transcript-Week3.pdf

05-ELA_Transcript-Week4.pdf

06-ELA_Transcript-Week5.pdf

07-ELA_Transcript-Week6.pdf

08-ELA_Transcript-Week7.pdf

09-ELA_Transcript-Week8.pdf

10-ELA_Transcript-Week9.pdf

11-ELA_Transcript-Week10.pdf

12-ELA_Transcript-Week11.pdf

13-ELA_Transcript-Week12.pdf

14-ELA_Transcript-Week13.pdf
下面链接:
https://pan.baidu.com/s/1wPc1JrR4l5ucLUROP_gTYQ
点击下一页查看英文销售页面。
Now, the dollar amount people give varies from "$1,000 a month" all the way up to multiple six figures.
But the sentiment is the same. People want to make money from their blogs and businesses… and they want to change their lives.
And if you're reading this page, I have a hunch that you're on the same page.
Well, allow me to let you in on a little secret…
Your email list is your biggest asset as a business owner
Trust me – I went from earning less than $30,000 a year at an exhausting full-time job…
…to a seven-figure business. In just 3 years.
(And it wasn't because I'm any smarter, more experienced, or harder working than you!)
I was able to grow my business so quickly because I learned a system to grow my email list…
…build a relationship with my subscribers…
…and make sales through email marketing.
I'll share more about my story in a minute – but first…
I want to get an idea of where you're at right now.
Any of this sound like you…?
You've been working at this business thing for a minute now, 

but you're having trouble growing your email list.

Or maybe you're brand new in business, and you've heard email is important…

 but how the heck do you even get started? (Hellooooo tech nightmare!)
You've found some list-building strategies… 

but either they're confusing and overwhelming, or you just can't stay consistent with it

 (especially since, when you do try them, they don't seem to work as well as you expected).
You know you should be sending things to your email list (even if it's super tiny)… but 

you're not sure what to write – and you just can't seem to find time to sit down and make it a priority.

You see other people's blogs and businesses take off as their lists grow…

 and you wonder, "What are they doing that I'm not???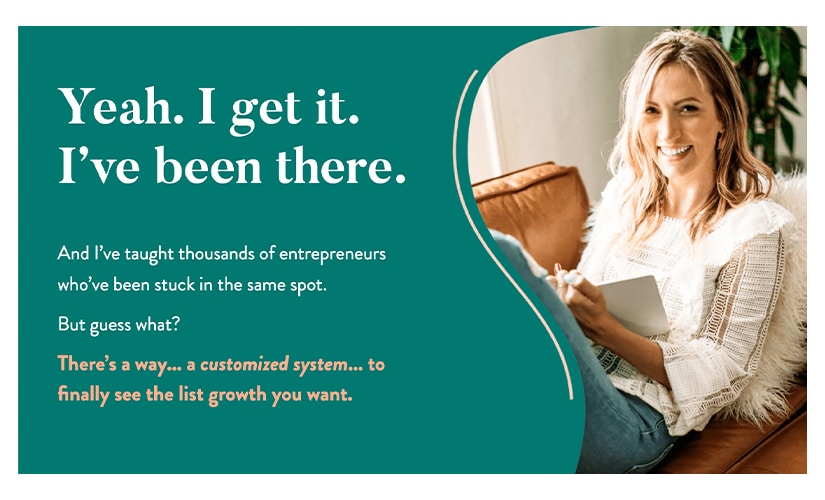 Just Imagine…
…Finally hitting the coveted "1,000 subscribers" benchmark and feeling confident launching your first product.
…No longer feeling like you're creating content that disappears into thin air…because now you have a list of subscribers who eat up your blog posts and buy your products.
…No more struggling with social media algorithms – and instead being able to pop into your audience's inbox whenever you want to.
…Getting heartfelt responses to the emails you write from people who are obsessed with what you create in the world.
…Seeing notifications on your phone for new sales that came in from an email you sent to your list.
How The Email-to-income Formula Works:
The industry average is that 1-3% of your subscribers will buy your product or service.
(Just to keep the math easy, I'm using the average estimate of 2% in the equation above.)
Let's say you have 1,000 people on your list, and your product costs $300.
1,000 x 2% = 20 buyers
20 buyers x $300 product = $6,000 in sales
Now, what if you have 5,000 subscribers and send an email about that same $300 product?
5,000 x 2% = 100 buyers
100 buyers x $300 product = $30,000 in sales
You can see how exciting this is, right?
Because the more you grow your email list, the more you grow your income, too! This is exactly what I've experienced in my own business, and what you can expect to happen in yours.
But here's what you need to keep in mind:
Not all email lists are created the same.
And to get results like the ones above (or even better!) you need to have a game plan in place to grow your list with the RIGHT people, engage with them in, and send emails that convert.
How do you get those subscribers?
Introducing Email List Academy
A customized, 90-day system for the online creator who wants to build an engaged email list, grow their business, and live life on their own terms.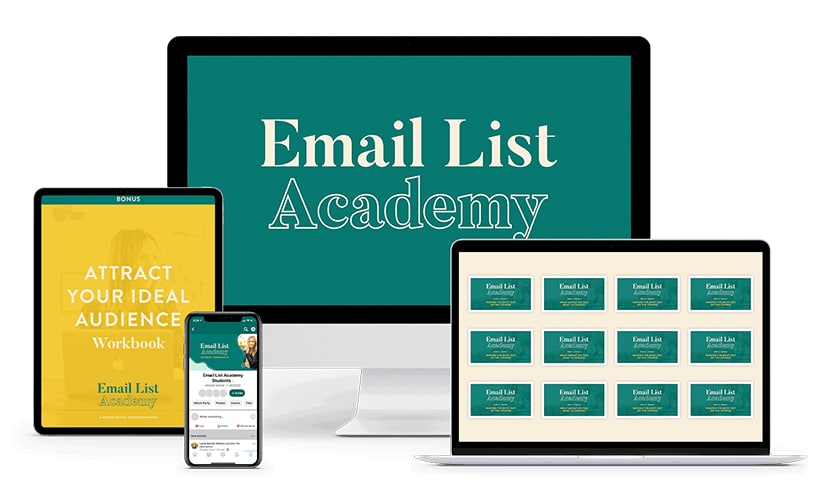 In Email List Academy, you'll get the exact strategies I've used and steps I've taken to grow my email list to over 200,000 engaged subscribers.
And the best part?
It's a step-by-step system that gives you the right tasks, in the right order, on a week-by-week and day-by-day basis. (Read: not just "a bunch of random, outdated strategies.")
Because I know that there are a gajillion strategies out there – but if you don't have a proven GAME PLAN, then you're almost guaranteed to waste time on the least powerful tactics, or to get confused and slow your growth.
Plus, Email List Academy isn't JUST an online course — it's a customized system. You'll start by taking my proprietary List-Building Personality Quiz to discover your specific List-Building Personality Type. Then, throughout the program, I'll share specific strategies, tips, and advice just for people with your type!
Gone are the days of "one size fits all" list-building advice. ELA is a truly custom experience, because I believe that when you use strategies that align with your unique personality and strengths, you get FAR better results.
Here's What I'm Teaching You During Your 90 Days In Email List Academy:
Month #1: Nail the Foundation
You'll hit the ground running by learning WHY your email list is so important, developing your first lead magnet, creating a landing page, and engaging with your subscribers using my coveted Nurture Sequence.
Month #2: Skyrocket Your List Growth
Hold onto your hat. It's time to rev up your list-building engine and start skyrocketing your email list results. (But don't worry – I guide you through it all, step by step.)
Month #3: Master Engagement and Sales
Now that you've got the systems in place to build your list, let's shift focus to boosting your email list and turning it into an automatic sales machine.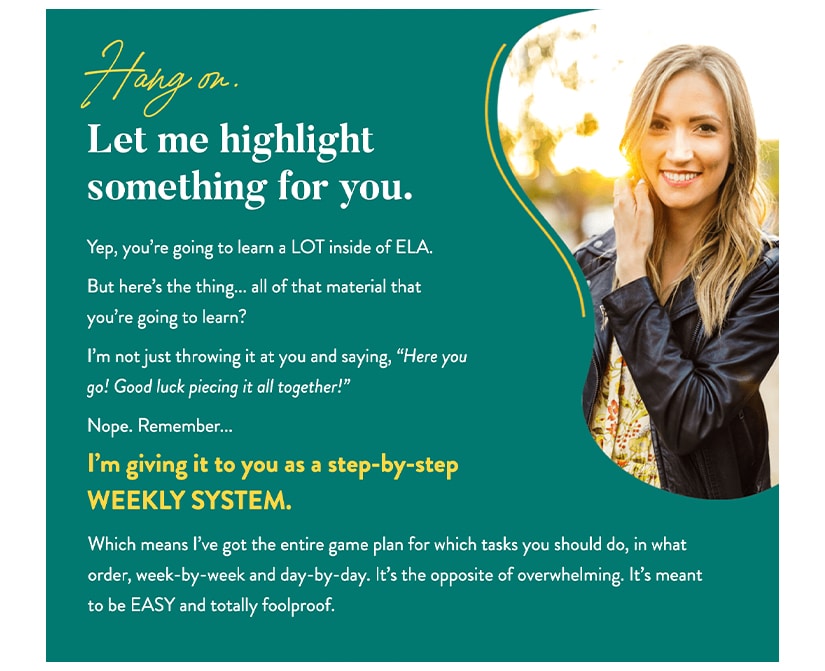 And if you're worried you can't keep up with the 90-day schedule? No worries!
Once you join Email List Academy, you get lifetime access to all of the course materials – which means you can go at your own pace, or take a break and come back to it when you're ready.
And when you do pick it back up, you'll know exactly what your next step is.
Email List Academy Bonuses You'll Receive
Untold Secrets of My 7-Figure Business
Remember those value packed income reports I used to do back in the day? Well this is like that but x1000. I'm going to be lifting back the hood on my business so you can learn about my revenue streams, list growth, how I built my team, and more! I have never done this before, and I am beyond excited to share my what I have learned growing a multi-7 figure company.
Attract Your Ideal Audience (Bonus Workbook)
With the Attract Your Ideal Audience bonus workbook you'll get total clarity around where those dreamy future friends and customers are spending their time online. From there, you'll create a game plan designed to make reaching those hearts and minds and getting them on your email list a piece of gluten-free chocolate cake.
How To Organically Grow Your Traffic Masterclass
In this bonus masterclass, you'll learn how to grow your own organic traffic strategy to get more subscribers, more sales, and more visibility. Being able to generate organic traffic is the creme de la creme for growing your online business quickly AND the best part is, it's free!
Private Email List Academy Facebook Group
Get instant access to the private FB group and connect with like-minded list builders (and Melyssa!) to get the support, feedback, encouragement, and inspiration you need to grow your list like never before.
How to Grow Your List With Free Publicity (Bonus Workshop)
In this bonus workshop with publicity expert, Susie Moore, you'll get the strategies and inspiration you need to create consistent visibility, a constant influx of new and engaged subscribers, increased sales, brag-worthy brands to add to the 'as seen on' section on your website, and so much more.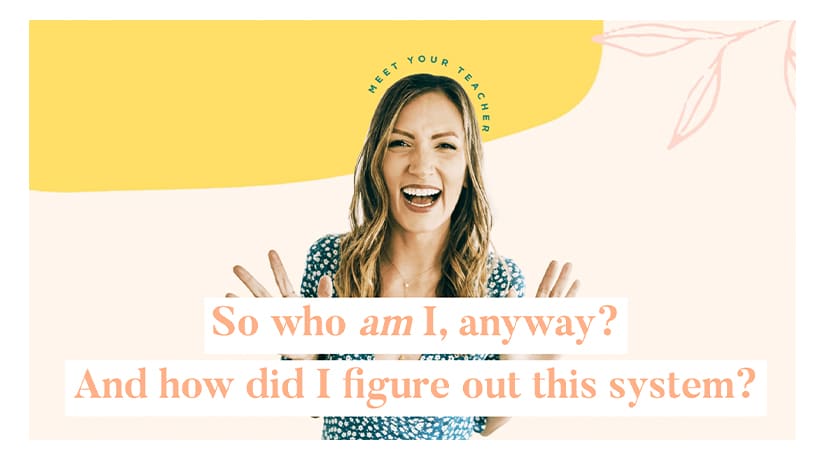 Hi. I'm your teacher, Melyssa Griffin!
And lest all these photos of happy, sunny me, playing in a happy, sunny workspace lead you to believe otherwise…
…I haven't always had a successful business.
Just a few years ago, I was living in a 300-square-foot studio apartment. On a $30K/year income. From a soul-sucking day job where I didn't feel valued.
Within a year, I grew my email list to over 35,000 subscribers, quit my day job to run my business full time from anywhere in the world, and was making high six figures.
Within four years, I had a multi-million dollar business.
And the #1 thing that got me there?
My email list.
声明:本站所有文章,如无特殊说明或标注,均为本站原创发布。欢迎转载,请注明出处。